NewsPipa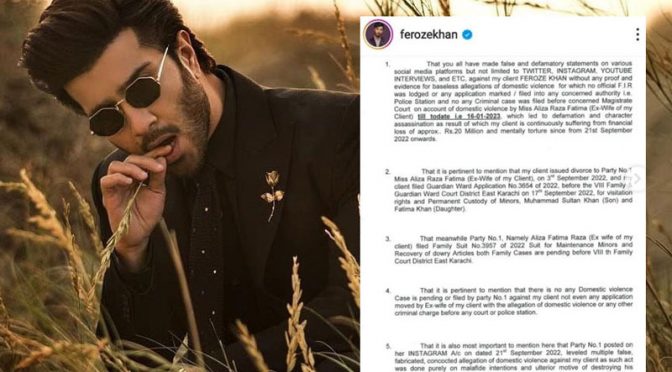 Karachi: (Web Desk) Pakistani actor Feroze Khan has sent legal notices to several showbiz personalities for tweets against him and demanded a written apology within 15 days.
As confirmed by Feroze Khan through a tweet, he wrote that he has sent a legal notice to all these personalities, who ran a fake campaign against him on social media.
Feroze Khan's lawyer Faiq Ali Jagirani also confirmed through a video, saying that he has sent legal notices to several showbiz personalities to defame Feroze Khan under the direction of the actor.
In this list, the names of his ex-wife Aliza Fatima, Oscar-winning director and producer Sharmeen Obaid Chinoy, singer Asim Azhar, actor Khalid Usman Butt, Sarwat Geelani, director Mossadegh Malik, actor Ayman Khan, Manal Khan and actress Meera Sethi are included.
According to the actor's lawyer, the legal notice has given all the personalities 15 days to issue a written apology or they will be sued for damages.
In the petition, it has been decided that the aforementioned personalities have started a false campaign against their client on social media and defamed him without proof.
While the lawyer has also claimed that there is no domestic violence case pending in the court against Feroze Khan.
It is to be noted that Feroze Khan and Alizah Fatima had separated in September 2022 after 4 years of marriage and his wife had also shared pictures on social media accusing him of domestic violence.
Alizeh wrote in her Instagram post that she also experienced infidelity and blackmail in this relationship, and after much consideration, I have come to the conclusion that I cannot live my whole life in this terrible environment, not me. Wanting my children to grow up in such a violent environment, this decision was important for my children's well-being. I want to teach my children that no wound is too deep to heal.
Subsequently, many famous stars criticized Feroze Khan and also expressed their indifference towards him. It should be noted that Fahrooz Khan and Alize Fatima have two children, who are currently with their mother.