NewsPipa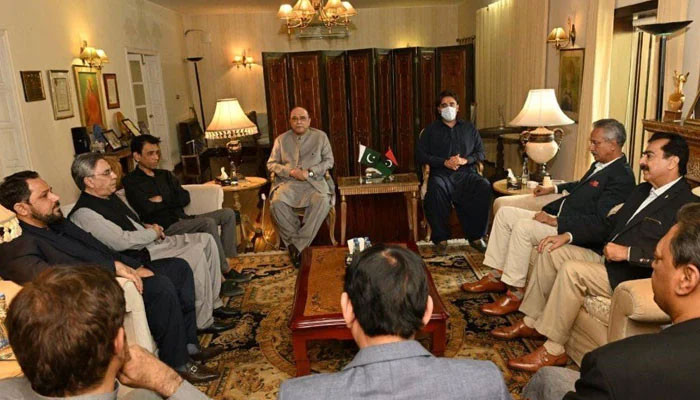 The meeting with the ruling coalition at Bilawal House Karachi ended on the concerns of the Muttahida Qaumi Movement (MQM) Pakistan.
A meeting was held at Bilawal House Karachi with MQM and other government allies in which Federal Minister Rana Sanaullah, Malik Ahmed Khan, Sindh Chief Minister Murad Ali Shah and Sharjeel Memon participated.
According to the sources, the meeting with the leaders of the coalition parties led by Asif Zardari ended without any result.
Sources say that there was no progress on the issue of constituencies in the meeting, MQM Pakistan is sticking to its stand on the issue of constituencies.
According to sources, MQM says that citizens want a permanent solution to the problems of Sindh, not politics, that's why they became part of the current coalition government.
The delegation of the federal government has to inform the prime minister about the discussion in the meeting. The representative of the prime minister is expected to contact Asif Zardari after taking a briefing from the delegation.
Sources say another meeting between MQM and PPP is likely today.
On the other hand, according to the sources, in the MQM general workers' meeting, it will be taken from the workers about other options, including separation from the government.
Sources say that after the meeting, Governor Sandhu and several MQM leaders left Bilawal House without speaking to the media.
It should be noted that the Muttahida Qaumi Movement has expressed reservations about elections and constituencies.