NewsPipa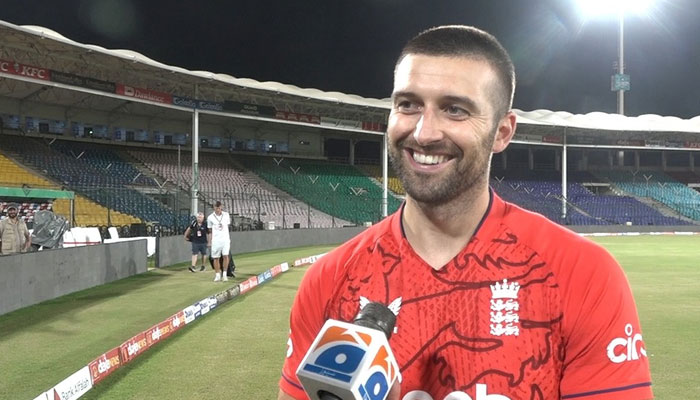 England fast bowler Mark Wood said he tried to learn bowling by watching Pakistani bowlers Haris Rauf and Mohammad Hasnain.
Fast bowler Mark Wood, who was instrumental in England's 63-run win over Pakistan in the third T20I, told Geo News' 'Game Changer' section that he had never seen a crowd as passionate as Karachi.
Mark Wood took three Pakistani batsmen to the pavilion, including Babar Azam and Hyder Ali, and was instrumental in England's 221-run defence.
He said the wicket helped, but he also looked at the Pakistani bowlers, how they were doing their job. He said he is a fan of Haris Rauf and also likes Hasnain. What are you doing and trying to take wickets by bowling the fastest? .
The 32-year-old fast bowler, who is playing his first international match after six months, said that the England team remembered that Pakistan had crossed the big target a day earlier, so they adopted a different strategy this time. .
Asked what England's strategy was, he said the plan was to play attacking cricket and play a different game than the one planned a day earlier.
"A day ago we didn't send bouncers, we didn't come around the wicket, we didn't try field positions, this time we planned to do something different," he added. Babar Azam and Rizwan are great players, they played great the other day, we tried to do something different now to get some help and luckily that happened.
Responding to a question, Mark Wood praised the fans at Karachi National Stadium and said that he had never seen such a passionate, noisy crowd before, there was a great atmosphere. He also praised Pakistan's hospitality, when asked if he had received it. After having the opportunity to eat the traditional food of Pakistan, he said that he likes the dal here very much.
Markwood also said that Moeen Ali told him two Urdu words, one is ok and the other is how about? Don't know their meaning but hope to learn the word soon.